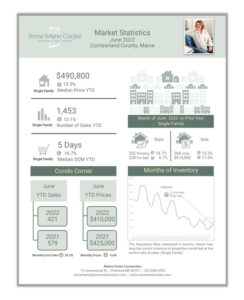 The housing market in Maine is beginning to feel the effects of rising interest rates. Sales of single-family existing homes declined 9.8% percent in the month of June. The statewide median sales price (MSP) reached $360,825 – an increase of 16.4 percent compared to June 2021. The MSP indicates that half of the homes were sold for more and half sold for less.
It appears that some homebuyers are considering 'pause' in their home buying plans in some cases. Some homes are beginning to stay on the market for weeks instead of days. There are now price adjustments, and fewer buyers competing for new for-sale listings as rising mortgage interest rates have cooled some segments of buyer demand.
Statewide in Maine, the for-sale inventory of single-family properties remains historically low with 1.8 months of supply available – but has increased, albeit slightly, for the last three months. A four to six-month supply is considered a balanced market. The attached report breaks down where things stand overall.
Feel free to reach out with any questions or comments you may have and, as always, I hope you'll consider hiring me as your broker if you are interested in buying, selling, or investing in a home.
View the June 2022 Market Statistics